It's really just all about getting into this. Pictured is the pit in Barnesville, MN


The Federation:
The Mashed Potato Wrestling Federation is based out of Minneapolis, Minnesota and is the official and only governing body of mashed potato wrestling in the known universe. Officially sanctioned mashed potato wrestling events take place in 2 known locations–Barnesville, Minnesota and one in Clark, South Dakota. Each town has a potato festival that honors the humble potato. A third location in Fort Fairfield, Maine recently lost their MPWF "fully santioned" status due to being shut down for insurance reasons. They need to raise $25,000 to get their pit back.
Wrestlers:


Steve-O Gratin - Current Champ


The Afrodisiac


Rowdy Roddy Potato Head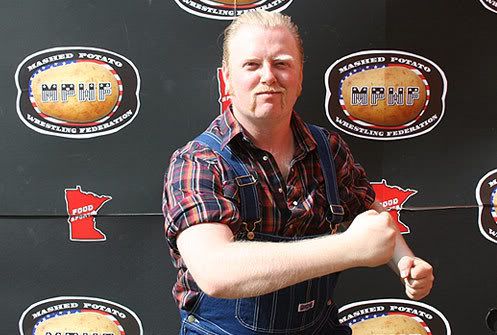 Yukon Golden Boy


Sweet Potato


The Nisswa Ninja
The Beginning:
The video below started it all. I (Steve Barone) went around to several Minnesota festivals last summer and made some videos for Explore Minnesota Tourism's new user generated subsite called My Favorite Minnesota. This one is from Potato Days in Barnesville where my alter ego Steve-O Gratin became the Mashed Potato Wrestling Champion of the Universe.
Other entertaining Minnesota festival videos on the My Favorite Minnesota site can be seen here
http://www.exploreminnesota.com/myfavoriteminnesota/index.aspx?reflistid=385
Below is a My Favorite Minnesota press release about the site and the video/webisode
Mashed Potato Wrestler in Minnesota Tourism's corner.
St. Paul, Minnesota — Fishing, biking, shopping, golfing, okay, but mashed potato wrestling? Normally, wrestling in a pit of mashed potatoes isn't the normal way to promote tourism, but Minnesota has successfully pulled it off—or peeled it off in this case.
Mashed Potato Wrestler, Steve-O Gratin (aka Minnesota resident Steve Barone) was recently crowned Mashed Potato Wrestling Champion of the Universe and a hilarious web video about it is generating buzz both on-line and off, and attracting travelers to the state tourism website: www.exploreminnesota.com. It's featured on a sub-site called My Favorite Minnesota, where people can get the inside scoop from Minnesotans who upload their own content about their favorite places to go and things to do in Minnesota.
Barone's list, "Steve's 12 favorite places in Minnesota for a festival Junkie" features a dozen festivals that take place across Minnesota, including of course, Potato Days, held annually in rural Barnesville Minnesota. In the "webisode" we are introduced to Barone, clad in a circa 1970s red singlet and the masked Rowdy Roddy Potato Head, his opponent who dons a low budget superman style outfit. The match begins and there is an audio overlay from a P.A. announcer as the wrestlers fight to move around in the 10'x20' pit of mashed potatoes. Soon, both wrestlers are completely covered in the starchy goodness. The music crescendos into an anthem as Barone pins his opponent and greets about 20 cheering kids with the messiest high-fives the world has ever seen. Barone then holds up his homemade title belt over his head and declares to the camera that he is "champion of the world baby, champion of the world…champion of the universe, actually" The video concludes as he is rinsed off with a fire hose by a local fireman on the scene.
Steve's list of festivals is one of many lists of Minnesotans' favorite places to go and things to do in Minnesota, providing photos, video and commentary. Other content on the My Favorite Minnesota site include Olympic luger Tony Benshoof's favorite places for adventure and thrills, a motorcycle gang's favorite scenic byways and "Liam's 12 favorite places in Minnesota to take his parents." Fishing, a tried and true tourist draw for Minnesota, is included as 10 bait shop owners across the state team up to reveal their 10 favorite fishing holes in Minnesota.
Check out the mashed potato wrestlers with big heads on this MN Tourism Poster for
My Favorite Minnesota
(L-R) Steve-O Gratin, Rowdy Roddy Potato Head